July 10 2018

Sixteen Pandora Grain and Supply customers attended the Cover Crop meeting on July 9; the group was a mix of seasoned and youthful farmers with different goals. Some attendees were looking to add diversity to their mostly soybean cropping, and others were looking to sequester nutrients for later use through mineralization.

Alan Sundermeier from the Wood County, OH extension office opened the meeting describing how farming is a system and cover crops are a valuable tool towards extending the life of this system. Most everyone in agriculture appreciates the value of organic matter and the relationship of organic matter and cover crops. Imagine two fields with the same soil textures, but one having organic matter of 2% the other having 4%; the higher organic matter is a sponge and will have more plant available water as in this figure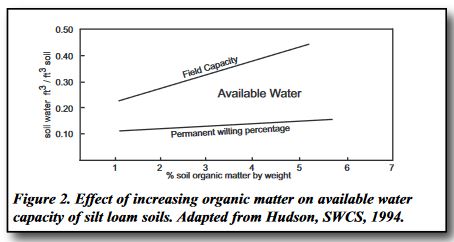 available at:https://www.nrcs.usda.gov/Internet/FSE_DOCUMENTS/nrcs142p2_053288.pdf. This is one of the many benefits of adding cover crops to your farm management system.

Alan discussed the topics of selecting cover crops for successful corn production, proper termination methods, and controlling voles in cover crop fields. As every farm and the desired goal from a cover crop cover are different, cover crop selection should be matched to each farmers management, a tool to help select cover crop species for a given management program is available here https://www.ars.usda.gov/plains-area/mandan-nd/ngprl/docs/cover-crop-chart/.

Crimping cover crops along with herbicide termination of cover crops was discussed. It is important to evaluate cash crop herbicide persistence and possible restrictions for planting cover crops; useful information is available here http://blog.uvm.edu/cvcrops/files/2012/09/Cover_crop_and_herbicides.pdf.

The last topic was control of voles which is somewhat difficult as some of the beneficial aspects of cover crops may also provide a robust environment for voles. Information is available here https://www.nrcs.usda.gov/Internet/FSE_DOCUMENTS/stelprdb1251776.pdf and cover crop management strategies are available to reduce losses to this pest.

A representative of LaCrosse seed provided additional information and recommended seed offerings to match farm management strategies. Contact your Pandora Grain and Supply Sales associate or Agronomist for additional information if you are interested in adding cover crops to your farm management program.


June 28 2018

Anticipated heat Stress on Corn

As we enter into the weekend of June 30 with very high heat predictions and corn fields around Pandora are likely to start tasseling early next week, there may be concern about how this may compromise your corn yields this fall. Fortunately, the overall health and plant available water in the region are very good, the excellent planting conditions we had this spring provided a foundation for the crop to withstand the anticipated heat this weekend. With the ample soil water and only a short window of predicted temperatures above 90 degrees the corn crop will enter into pollination with little to no yield losses from the heat. R1 or silking following tassel emergence is the period of greatest water demand by the corn plant and heat stresses of four days in this period may reduce yields by 1%, five days yield may be reduced an additional 2%. Iowa State Research available at:

https://crops.extension.iastate.edu/cropnews/2011/07/corn-and-big-long-heat-wave-way

Remember that corn is originally a tropical grass originated from the mountains of central Mexico where it was adapted to warm daytime (above 86 oF) and cool nighttime (below 70 oF) temperatures. Daytime temperatures above 86 oF will make the corn plants uncomfortable but corn is adapted to cope with the heat. The nighttime temperatures this weekend are predicted in the lower 70s and that will increase dark respiration in the corn but not at rates that will significantly compromise yields. During this weekend of high temperatures, worry more about hydrating and protecting yourself from the heat than your corn crop.

June 26 2018

Preparing for in season fungicide applications

In a recent blog article from the University of Illinois "Tips to help you make fungicide decisions" found here http://cropdisease.cropsciences.illinois.edu/?p=743 Nathan Kleczewski provides key points to help in deciding to spray (or not) fungicides:
· Fungal diseases only occur when the correct pathogen, plant host, and environment occur together
· The amount of disease is related to the duration of time conditions for disease are met
· Not all disease results in yield loss
· Fungicides minimize fungal disease
· Economic returns are greatest when fungicides are applied to susceptible plants and conditions favoring disease occur.
As we all know we have had extremely variable and sometimes very heavy rainfall in Northwest Ohio; disease pressure may not be uniform and decisions will be made farm by farm rather than across the region. If this pattern continues wet fields could persist into the fall, overall plant health including stalk integrity may become more of an issue at harvest. We typically measure fungicide efficacy by grain yield, but if fungicide application results in improved plant health and standability at harvest allowing easier/faster harvest, saving time and reducing stress at harvest may be incidental benefits of treating fields. In season commodity prices have changed and may cause farmers that typically spray to reconsider decisions. Conversely, farmers that have not historically sprayed may consider spraying to protect their investment of a good looking corn crop. These management decisions will be different for all farm managers. Regardless, Pandora Grain is prepared to help you with these decisions. We have aerial application services retained for fungicide applications, reach out to your sales advisor for additional help in protecting your 2018 crop.


June 15 2018
It is time for diligent weed scouting.
As you are scouting your fields be on the lookout for Waterhemp and Palmer Amaranth. We have identified Waterhemp in Allen county this season and are working to control this problematic weed.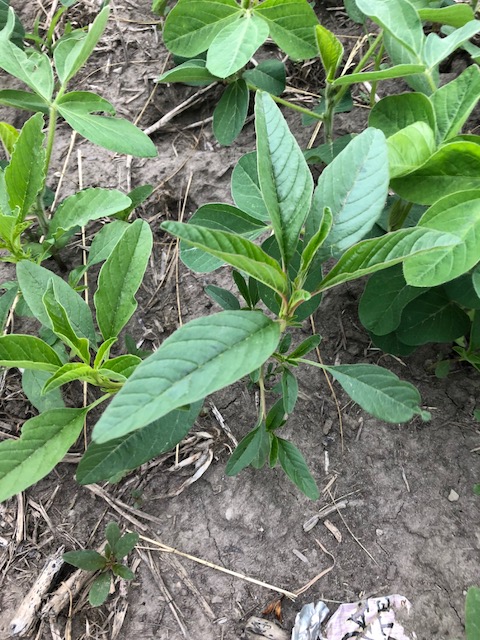 Additional resources are available from The Ohio State University at
http://u.osu.edu/osuweeds/super-weeds/palmer-amaranth/
Controlling these weeds requires a systems approach including diligent scouting throughout the season, possibly tillage, applying herbicides with a residual, and stacking multiple herbicide modes of action. Obviously controlling the weeds early in the season will help the 2018 season. Controlling these weeds will be realistic if Liberty or Dicamba resistant beans were planted. If these weeds are found in conventional or Glyphosate only resistant beans herbicide options become limited and a control strategy of containment becomes more realistic so not to spread seed from these weeds to other fields to further spread the problem. In the case of Palmer amaranth, contact Dr. Mark Loux at loux.1@osu.edu or call (614)292-9081 to report an infestation. Also contact your Pandora Grain sales representative if you find these weeds in your field and we will work with you to provide products to limit the effects of these weeds. It is more important to control these weeds in the first quarter than punt in the fourth; a systems approach of diligent scouting, stacking herbicide modes of action, and limiting spread will lessen the risk of these weeds compromising your farming success.


June 1 2018
With over 80% of the Ohio corn crop planted and 65% emerged, farmers can be thinking about the next milestones for the 2018 corn crop. Most of the local crop was planted well and side dressing is winding down; the stage is being set for good yields. When evaluating this crop, one tool that may help in decision making on this and future crops is a Growing Degree Day (GDD) calculator provided by the High Plains Regional Climate Center https://hprcc.unl.edu/gdd.php#
Here is an example of April 23 planting date of a 111 day RM hybrid planted in Putnam County Ohio. Based on 30 year data, the estimated silk date for this hybrid is July 20 and estimated black layer (physiological maturity) is September 24. The years 2015-2017 are included for comparison. This tool can be accessed at https://hprcc.unl.edu/gdd.php# and I encourage you to input your planting dates and hybrid maturities and compare to the progress of your corn crop.
Additional interesting things you may evaluate:
· Compare planting dates when we have spring rains causing two planting seasons.
· Pick years that were extremes: wet, dry, or wet spring then dry summer.
· See if there is a change in GDD accumulation from 1981 till now.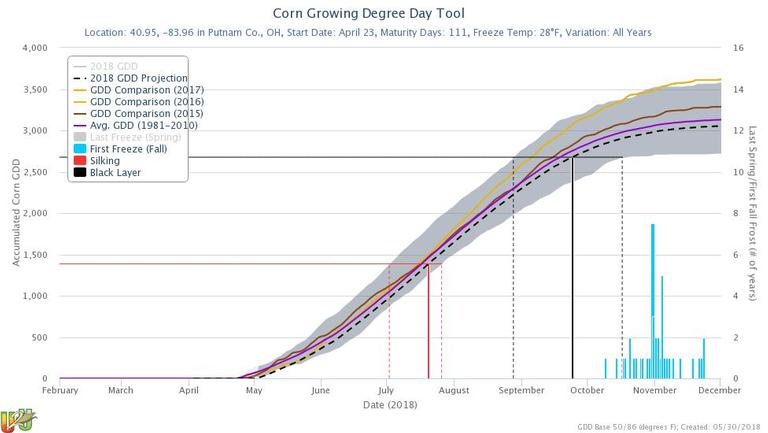 Dr. Jim Uphaus joins Pandora Grain Co. as an agronomist bringing his fourteen years of experience in seed research to support customers needs in managing emerging agricultural complexities. Jim is originally from Glandorf, OH, worked for his uncle's near Leipsic, OH and traveled the great plains while working on a wheat harvest crew. Jim studied agronomy at The Ohio State University and Plant Breeding of wheat at Purdue University. Jim worked at major seed companies in corn to improve genetic resistance to ear, leaf, and stalk diseases and also worked in wheat to improve grain yield, foliar disease, and head scab resistance. His experience in the seed industry allowed Jim to conduct research and understand agricultural adaptations to improve production across diverse regions. Jim is now looking forward to working with local farmers to support their agronomic management decisions.